Chicken Korma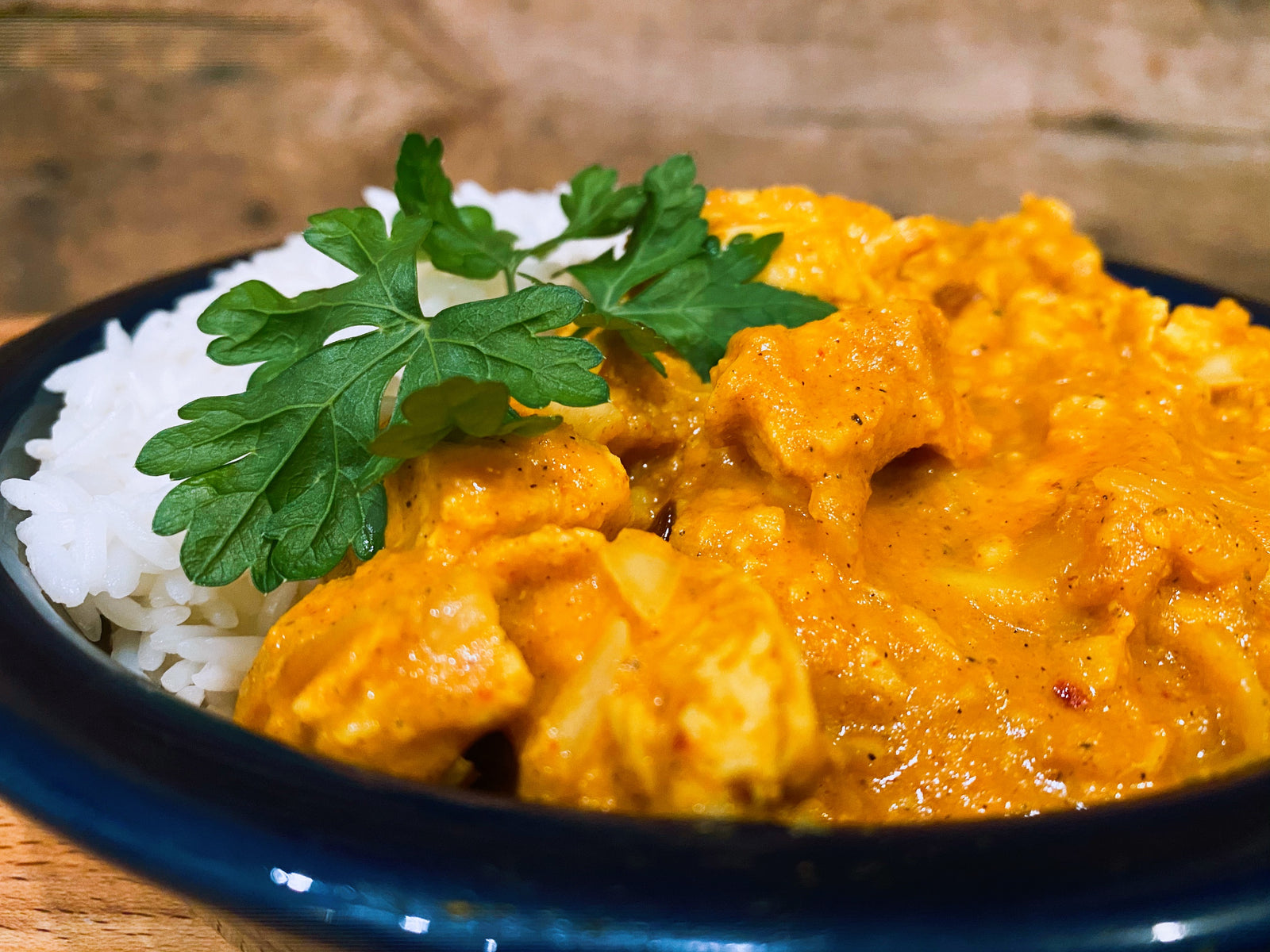 Attention all spice lovers: you have reached spice heaven. Our chicken Korma brings a taste of India to your home with a delicate combination of spices. 
SPICES:  garam masala, paprika, cardamom, turmeric, coriander, cumin, cinnamon, black pepper, crushed red pepper
INGREDIENTS:
Chicken Marinade:
5 lbs chicken tenderloins, cubed
½ cup cashews
2 garlic cloves, finely chopped
1 Tbsp ginger
2 Tbsps tomato paste
1 Tbsp garam masala
1 tsp paprika
1 tsp cardamom
1 tsp turmeric
1 tsp salt
1 tsp coriander
½ tsp cumin
½ tsp cinnamon
1 tsp pepper
½ tsp crushed red pepper
1 cup greek yogurt
Sauce:
1 yellow onion
1 Tbsp canola oil
3 Tbsps butter
1/2 cups chicken stock
1 cup coconut milk
¼ cup slivered almonds
INSTRUCTIONS:
In a food processor, combine the cashews, garlic, ginger, tomato paste, cashews, garam masala, paprika, cardamom, turmeric, coriander, cumin, cinnamon, pepper, crushed red pepper, and salt. Pulse until ingredients are well mixed and cashews are finely chopped.
Transfer to a large bowl. Mix in the Greek yogurt to add moisture. Once well incorporated, add the chicken and gently mix well.
Cover and marinate for at least 2 hours. For best results marinate overnight.
In a large skillet, heat the canola oil and butter over medium heat. Add the onions and cook for 3-5 minutes or until translucent.
Add the marinated chicken and chicken stock. Cook for 15 minutes, stirring occasionally.
Stir in the coconut milk and simmer for an additional 10 minutes.
Sprinkle the slivered almonds (adds great texture), and serve with rice.
Leave a comment
Comments will be approved before showing up.
---
Also in Recipes
Pumpkin spice and everything nice! 
Nothing better to entertain your fall cravings than a perfectly moist and spiced pumpkin bread. 
Banana bread is great, but this zucchini bread is even better! This low sugar, low fat recipe is perfectly moistened with applesauce, combined with whole wheat flour, and spiced up with a healthy dose of cinnamon. 
Let's talk about turmeric. The spice's main active ingredient is curcumin, which has powerful anti-inflammatory effects, is a very strong antioxidant, and has shown to increase brain health and function. Start your day right with this pineapple turmeric smoothie.