Chicken on corn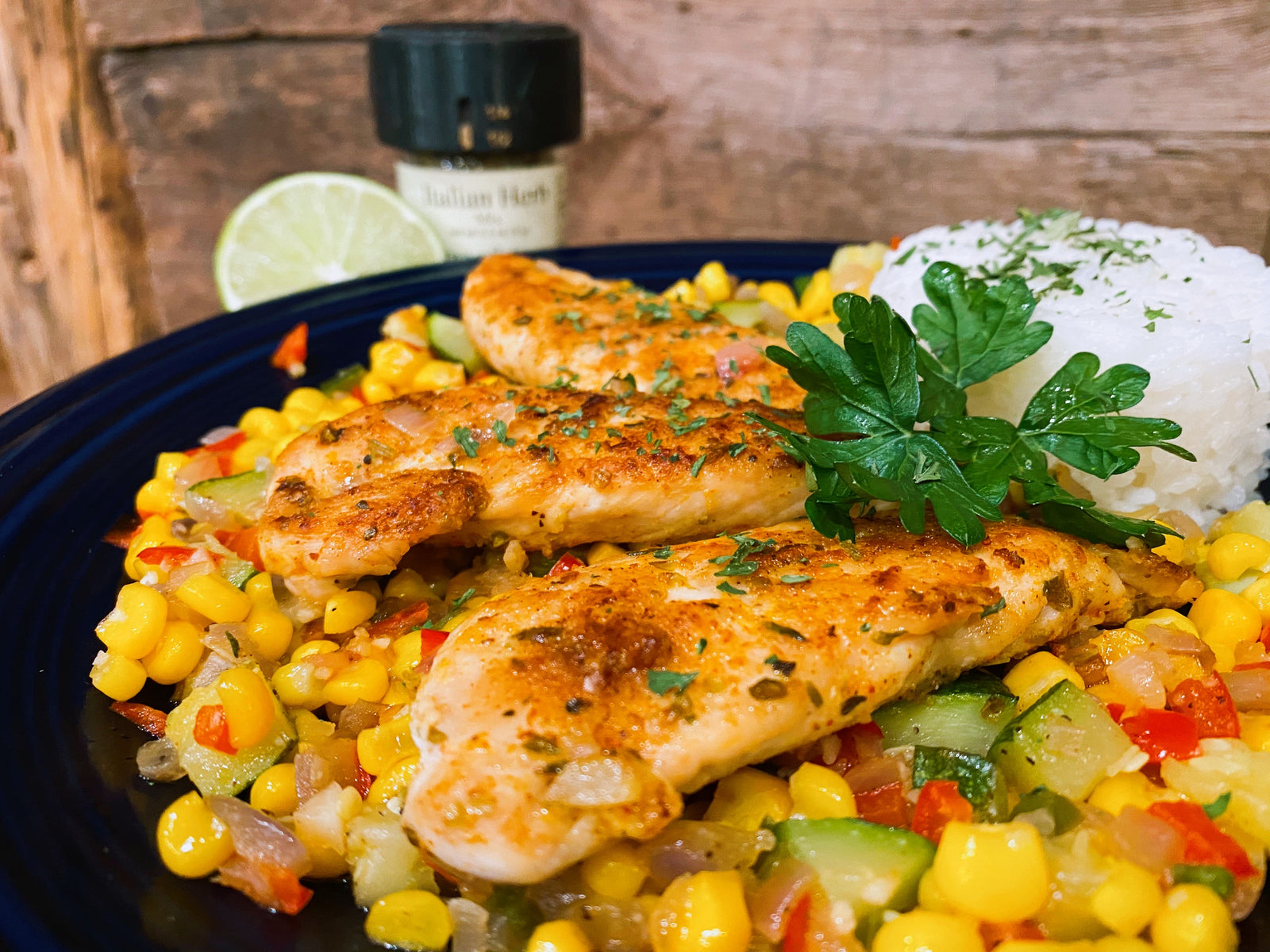 This healthy and colorful chicken on corn recipe will add some brightness to your dinner. Serve with rice, or eat by itself - your tastebuds will thank you for this delight. 
SPICES USED: chili powder, garlic powder, paprika, salt, Italian seasoning 
INGREDIENTS:
1 small red bell pepper, chopped
1 small red onion, chopped
1 serrano pepper (if less spice desired, clean out seeds), finely chopped
3 garlic cloves, finely chopped
¼ tsp chili powder
½ tsp garlic powder
½ tsp paprika
1 ½ tsp salt
½ tsp Italian seasoning
2 zucchinis, diced
1 pound chicken tenderloins, cubed
2 tbsp. olive oil
1 lime (optional) 
INSTRUCTIONS:
In a small bowl combine the chili powder, garlic powder, paprika, 1 tsp of salt, and Italian seasoning. Rub this mixture onto the tenderloins, both sides.
In a skillet over medium heat, heat 1 tablespoon of olive oil. Add in the chicken and cook each side evenly (around 3 minutes per side).
Remove the chicken from the skillet.
Pour the remaining 1 tablespoon of olive oil. Add the red onions, bell pepper, and serrano pepper. Cook for 3 minutes or until onions are translucent.
Stir in the zucchini, garlic, corn, ½ tsp of salt, and pepper. Cook 3-5 minutes or until zucchini softens.
Lower the heat and incorporate the chicken to warm up.
Squeeze fresh lime when ready to serve.
Leave a comment
Comments will be approved before showing up.
---
Also in Recipes
Pumpkin spice and everything nice! 
Nothing better to entertain your fall cravings than a perfectly moist and spiced pumpkin bread. 
Banana bread is great, but this zucchini bread is even better! This low sugar, low fat recipe is perfectly moistened with applesauce, combined with whole wheat flour, and spiced up with a healthy dose of cinnamon. 
Let's talk about turmeric. The spice's main active ingredient is curcumin, which has powerful anti-inflammatory effects, is a very strong antioxidant, and has shown to increase brain health and function. Start your day right with this pineapple turmeric smoothie.