Curried Coconut Shrimp and Corn Soup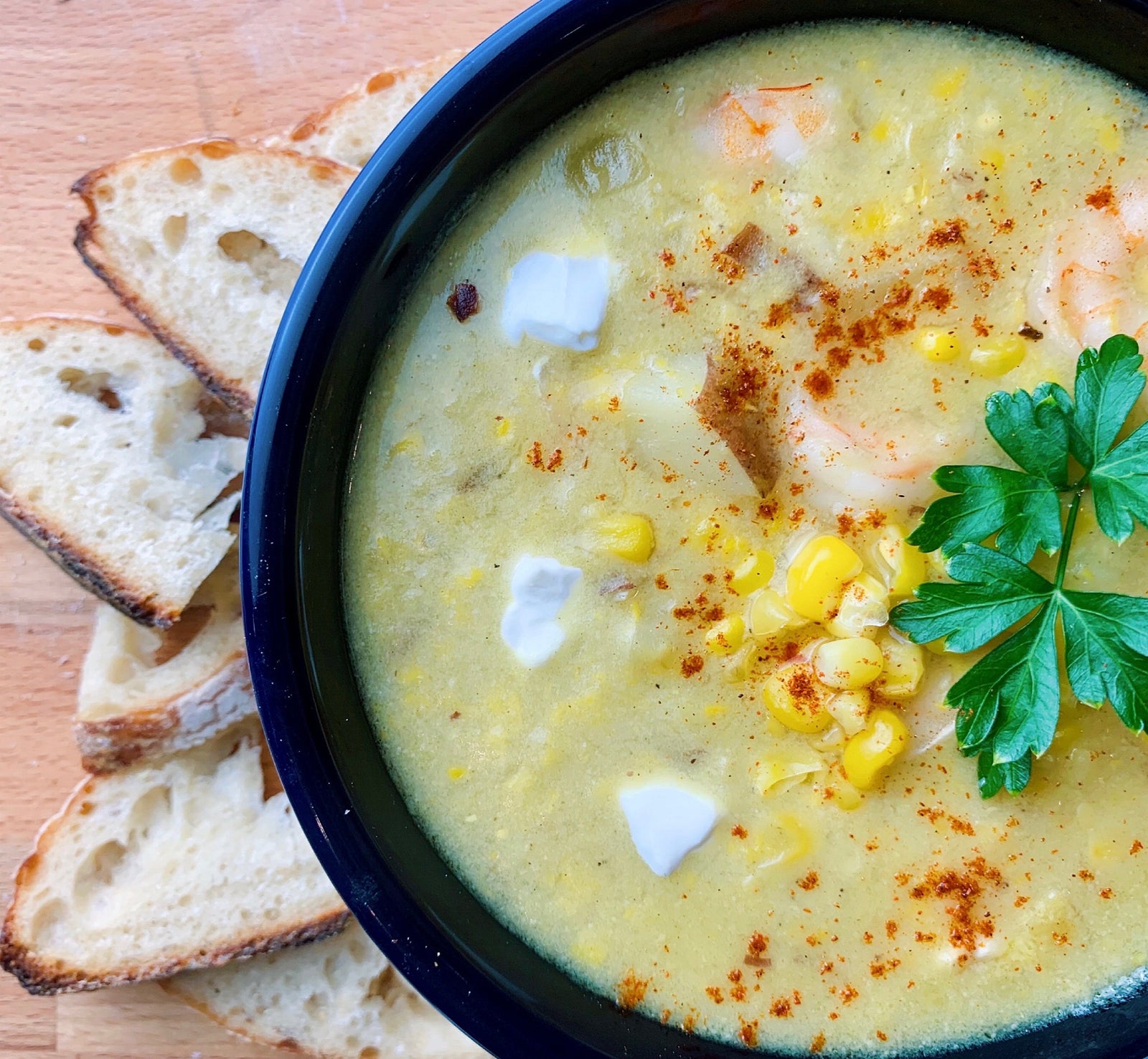 Looking for a delightful, light-but-creamy soup? This curried coconut shrimp and corn soup is absolutely delicious, refreshing... and did we mention healthy? 
Recipe courtesy of Heather Carey. Original post can be found here.
SPICES: Ground Cumin, Ground Coriander, Curry Powder 
INGREDIENTS:
1 teaspoon ground cumin
1 teaspoon ground coriander
2 teaspoons curry powder
2 tablespoons extra virgin olive oil
1 large yellow onion, chopped
1 teaspoon each salt and pepper
2 cloves garlic, minced or pressed
1 pound small red potatoes, cut into a 1/2-inch dice
6 cups corn (from about 8 ears fresh or you can use frozen)
2 14-ounce can unsweetened coconut milk
2 cups low-sodium chicken broth
1 pound medium shrimp, peeled and deveined
DIRECTIONS:
Heat the olive oil in a large soup pot over medium heat. Add the onion with the salt and pepper, and cook until soft, about 3 minutes.
Add the garlic, potatoes, and corn and cook for 1 minute.
Add the coconut milk, broth, cumin, coriander and curry powder. Bring to a boil, then down to a simmer. Cook for another 15 minutes, until potatoes are cooked through.
Add the shrimp and simmer until pink and cooked through, about 3 minutes. Adjust the salt and pepper if needed and serve hot.
Note: for the pureed version, blend the soup before adding the shrimp.  You can also puree half the soup to simply thicken it up.
1 Response
Leave a comment
Comments will be approved before showing up.
---
Also in Recipes
Pumpkin spice and everything nice! 
Nothing better to entertain your fall cravings than a perfectly moist and spiced pumpkin bread. 
Banana bread is great, but this zucchini bread is even better! This low sugar, low fat recipe is perfectly moistened with applesauce, combined with whole wheat flour, and spiced up with a healthy dose of cinnamon. 
Let's talk about turmeric. The spice's main active ingredient is curcumin, which has powerful anti-inflammatory effects, is a very strong antioxidant, and has shown to increase brain health and function. Start your day right with this pineapple turmeric smoothie.