Healthy Cauliflower Rice Pilaf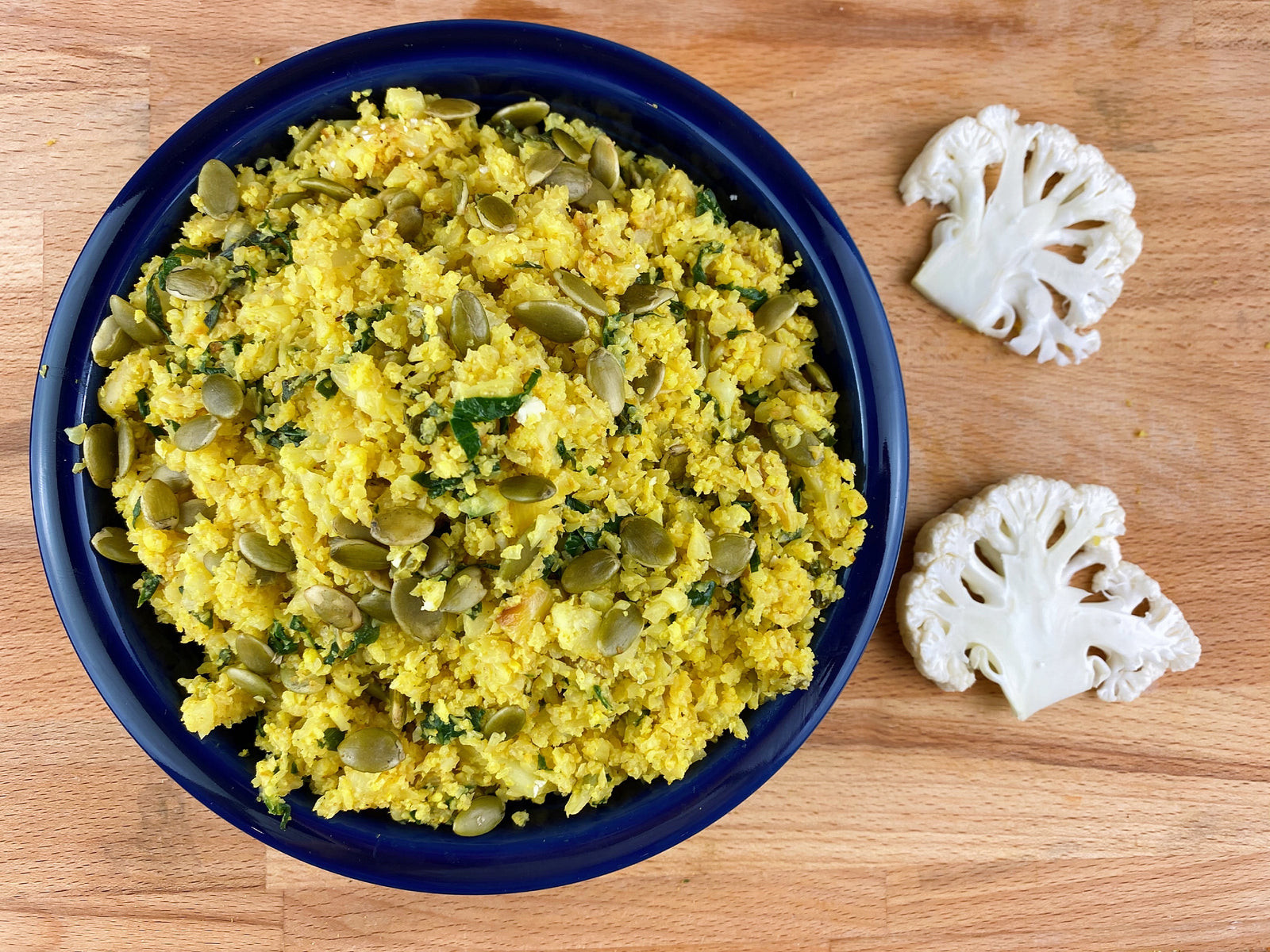 Another delight by Heather Carey. This cauliflower pilaf is truly out of this world - we paired it with our chicken and peanut sauce recipe. This combo has now become our go-to dinner recipe; maybe it will be yours too. 
Full description can be found on Heather's blog.  
SPICES:  turmeric, curry powder, salt, black pepper
INGREDIENTS:
2 10-ounce bags frozen riced cauliflower, or 1 large head fresh cauliflower
2 tablespoons extra virgin olive oil
1 small yellow onion, chopped fine
1/2 teaspoon each coarse salt and pepper
1 large clove garlic, minced or pressed
1 teaspoon ground turmeric
1 teaspoon ground curry powder
1 small bunch of kale (you can use 1 cup frozen and feel free to use other greens), stems removed and chopped
1/2 lemon, juiced
1/3 cup toasted pumpkin seeds, totally optional but gives it nice texture
DIRECTIONS:
Prep the cauliflower: if using fresh, remove the inner core and cut off the florets. Add the florets to a food processor (you might need to do this in two steps) and pulse until they are the consistency of rice. Set aside.
In a large sauté pan, heat the oil over medium high heat. Add in the onion with the salt and pepper and sauté for 3 minutes, until soft.  Add in the garlic, turmeric and curry powder and stir continuously for 30 seconds.
Add in the cauliflower and incorporate into the onion mixture. Sauté for 5 minutes until beginning to soften.
Next, add the chopped kale (you might have to do this in batches to let it wilt down), and continue cooking until softened.
Turn off the heat and taste, you might need to add in a little more salt. Sprinkle with the lemon juice and pumpkin seeds if using and serve.
Leave a comment
Comments will be approved before showing up.
---
Also in Recipes
Pumpkin spice and everything nice! 
Nothing better to entertain your fall cravings than a perfectly moist and spiced pumpkin bread. 
Banana bread is great, but this zucchini bread is even better! This low sugar, low fat recipe is perfectly moistened with applesauce, combined with whole wheat flour, and spiced up with a healthy dose of cinnamon. 
Let's talk about turmeric. The spice's main active ingredient is curcumin, which has powerful anti-inflammatory effects, is a very strong antioxidant, and has shown to increase brain health and function. Start your day right with this pineapple turmeric smoothie.