Healthy Chicken Enchilada (Quinoa Version)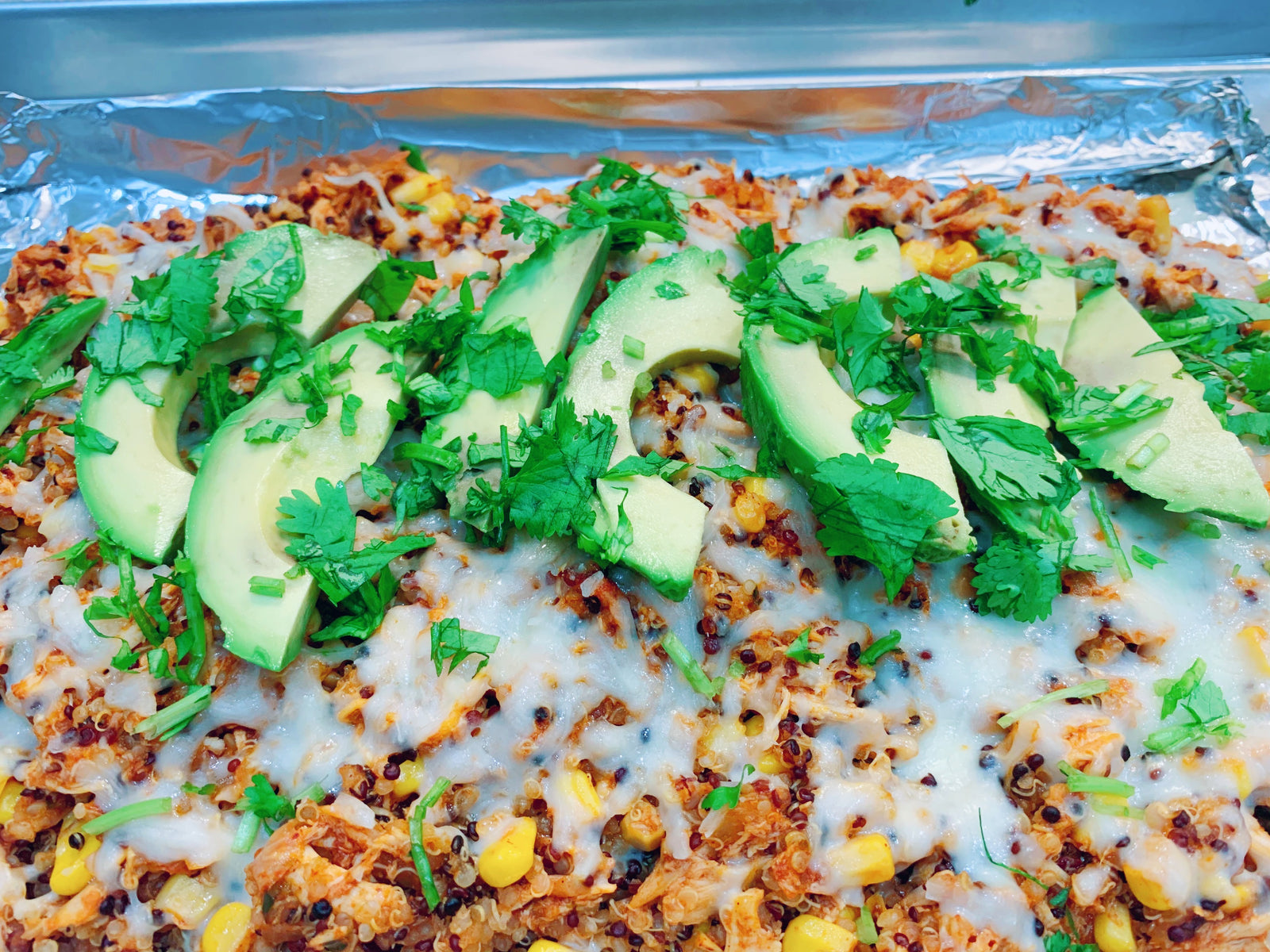 We love Chicken Enchiladas. And we love Quinoa. So why not both? This healthy chicken enchilada spin with quinoa will surely spice up your dinner - without making you feel guilty about it. 
SPICES: ground cumin, chili powder, salt, pepper 
INGREDIENTS: 
1 1/4 tsp ground cumin 

1 1/4 tsp chili powder 

3/4 cup mixed quinoa 

1.5 cups chicken broth (for the quinoa) 

1 Tbsp. extra virgin olive oil 

2 cloves of garlic, minced 

3/4 onion, diced 
1 jalapeño, minced (more to taste for extra spice) 
2 cups shredded rotisserie chicken 
1 cup fresh corn kernels 
1 cup enchilada sauce 
1 1/2 cups Shredded Monterey Jack (or Mozzarella) 
1 avocado 
Freshly chopped cilantro (for garnish) 
INSTRUCTIONS:
Preheat oven to 350º. In a small pot, bring the chicken broth and quinoa to a boil. After 1-2 minutes, reduce to a simmer, cover, and allow to cook until soft (15 - 20 minutes). 

In a large oven-safe skillet, heat oil on medium heat. Incorporate garlic, onion, and jalapeño until garlic is fragrant and onion is soft and translucent, about 5-6 minutes. 
Stir in cumin and chili powder. Add chicken, corn, and enchilada sauce. When well combined, incorporate the quinoa. If you do not have an oven-safe pan, transfer mixture to a baking sheet lined with aluminum foil. Top chicken and quinoa mixture with shredded cheese. 
Bake for 12 - 15 minutes or until cheese is full melted. 
Chop cilantro and slice avocado to garnish and serve. 
Leave a comment
Comments will be approved before showing up.
---
Also in Recipes
Pumpkin spice and everything nice! 
Nothing better to entertain your fall cravings than a perfectly moist and spiced pumpkin bread. 
Banana bread is great, but this zucchini bread is even better! This low sugar, low fat recipe is perfectly moistened with applesauce, combined with whole wheat flour, and spiced up with a healthy dose of cinnamon. 
Let's talk about turmeric. The spice's main active ingredient is curcumin, which has powerful anti-inflammatory effects, is a very strong antioxidant, and has shown to increase brain health and function. Start your day right with this pineapple turmeric smoothie.