Homemade Fried Chicken Sandwich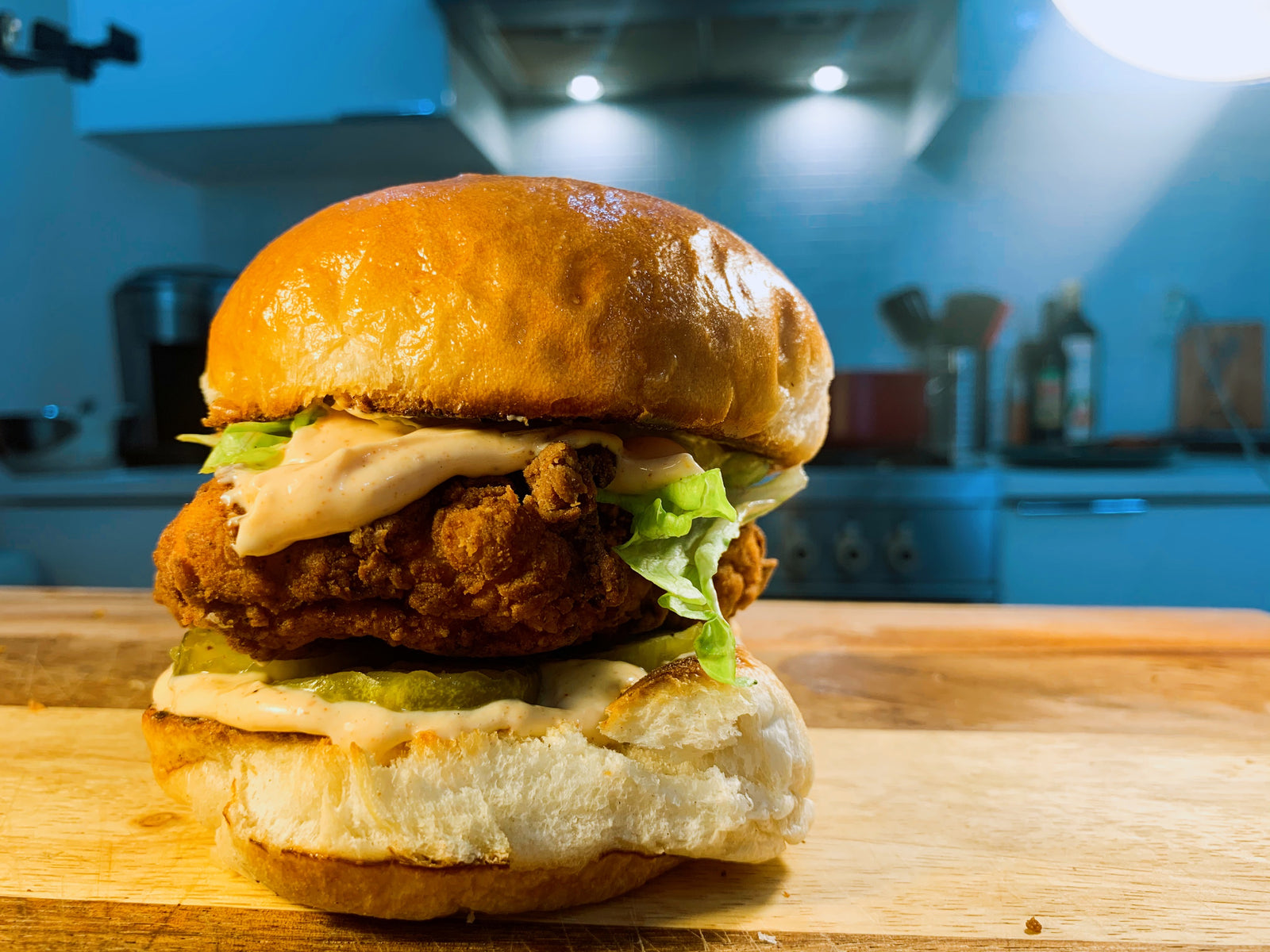 When it comes to homemade fried chicken sandwiches, spices are your friend. And when it comes to many spices in a recipe, CassCaps is your even better friend. Try this mouthwatering fried chicken sandwich recipe to see for yourself. 
INGREDIENTS:
Breading for coating chicken: 
1 cup of flour
1/2 cup of cornstarch 
2 teaspoons paprika 
2 teaspoons garlic powder
2 teaspoons onion powder
2 teaspoons cayenne pepper 
1 teaspoon salt 
1 teaspoon pepper 
Chicken marinade: 
2 thin sliced chicken breasts 
1 cup of buttermilk 
1 teaspoon paprika
1 teaspoon garlic powder
1 teaspoon black pepper 
1 teaspoon salt 
Aioli: 
1/2 cup light mayo 
2 teaspoons hot sauce
1 teaspoon paprika 
1/2 teaspoon garlic powder 
Sandwich: 
1/2 tablespoon unsalted butter 
4 brioche buns 
4 cups canola oil 
Dill pickle slices (to taste) 
INSTRUCTIONS: 
In a large bowl, whisk the buttermilk, paprika, garlic powder, black pepper, and salt as required by the chicken marinade ingredients list. 
Flatten chicken breast slices and cut in half to create 4 equal sized chicken pieces. 
Pour the chicken breast slices into the large bowl with the marinade. Refrigerate for 30 minutes. 
In a small bowl, whisk the mayo, hot sauce, paprika and garlic powder as required in the aioli ingredients list. 
In a large bowl, whisk all ingredients in the breading ingredients list. 
Using tongs, remove chicken from marinade and place in the breading bowl. Evenly coat the chicken with the flour mixture. For extra crispy results, repeat this step to coat the chicken with the marinade and breading twice. 
In a medium pot, heat the canola oil on medium heat until the temperature reaches 350F. 
Gently place breaded chicken breasts into the oil. Cook 3-4 minutes per side, or until it is fried golden. Internal temperature should reach 165F. 
Melt 1/2 tablespoon of butter on a flat pan and place brioche buns, opened, to toast. 
To assemble, generously spread aioli on the bottom of the bun, add pickles and lettuce as desired, gently place the fried chicken, and close with the top bun (feel free to add more aioli to top bun as desired). 
ENJOY! 
Leave a comment
Comments will be approved before showing up.
---
Also in Recipes
Pumpkin spice and everything nice! 
Nothing better to entertain your fall cravings than a perfectly moist and spiced pumpkin bread. 
Banana bread is great, but this zucchini bread is even better! This low sugar, low fat recipe is perfectly moistened with applesauce, combined with whole wheat flour, and spiced up with a healthy dose of cinnamon. 
Let's talk about turmeric. The spice's main active ingredient is curcumin, which has powerful anti-inflammatory effects, is a very strong antioxidant, and has shown to increase brain health and function. Start your day right with this pineapple turmeric smoothie.