Picadillo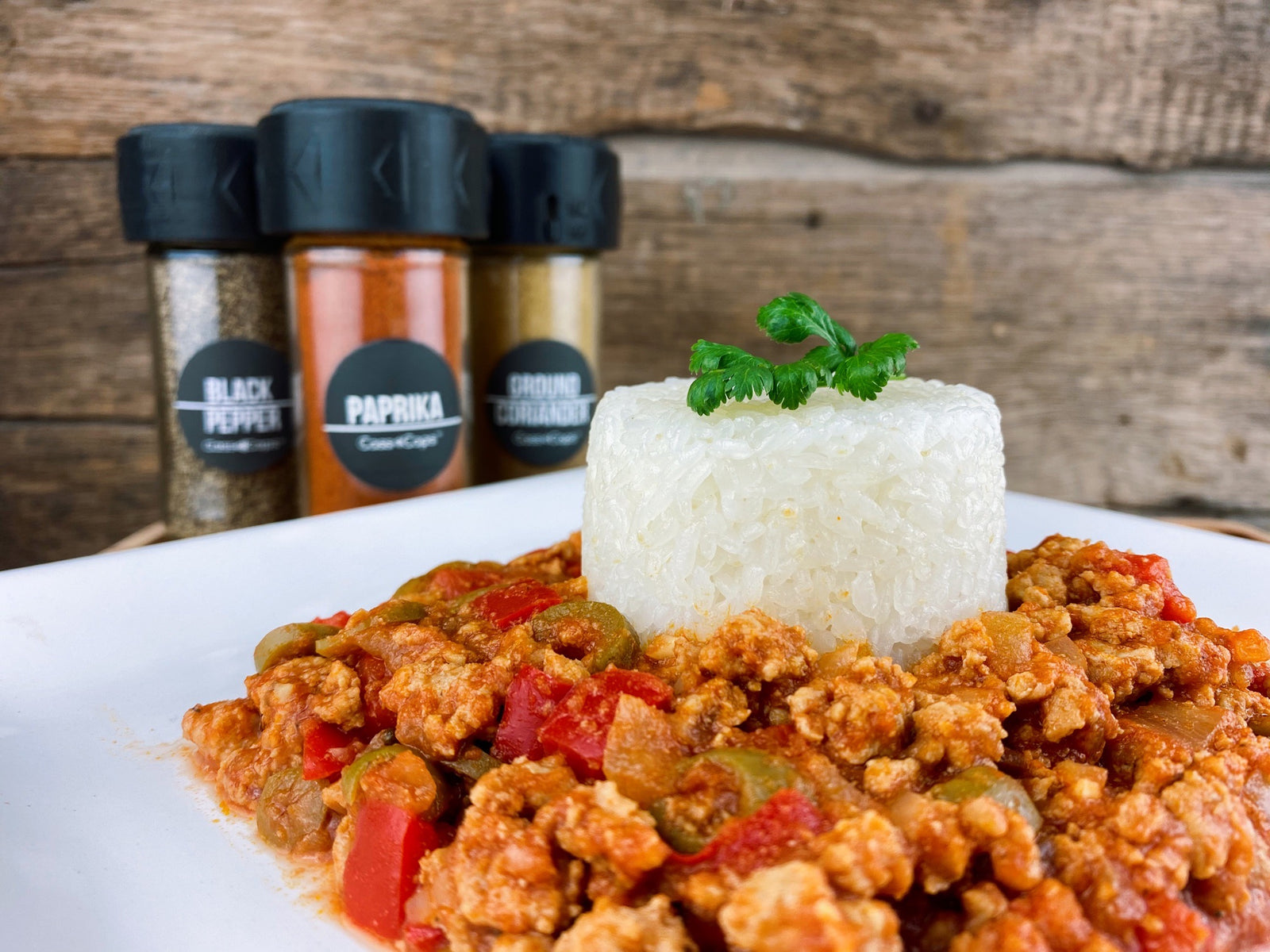 Spice up your ground turkey with this delicious Picadillo recipe. With a healthy combination of spices, tomatoes, and ground turkey, this recipe is not only easy, but sure to be a dinner favorite. Fun fact: Picadillo gets its name from the word "picar" in Spanish, which means to chop!
Recipe courtesy of Grub with Gabby. 
SPICES: oregano, paprika, coriander, cumin, salt, pepper
INGREDIENTS:
1 tsp Salt (more to taste) 

1 tsp Pepper (more to taste)

2 tbsp of Extra Virgin Olive Oil

1.5 Cup of pureed Tomatoes 

3/4 cup Green Olives, sliced
INSTRUCTIONS:
Warm 2 tbsp of Extra Virgin Olive Oil (EVOO) over medium heat and add the diced onion and pepper with 1/2 tsp of salt. 
Sauté for about 8 minutes until onions are translucent. Add the garlic and cook 1 minute. 
Incorporate the oregano, paprika, coriander, cumin, additional 1/2 tsp of salt, and pepper. Allow to "toast" for 1 minute. 
Mix in tomato paste. Add in the turkey meat and break up into pieces with a spatula as it cooks (about 5 to 8 minutes). 
Once the turkey is almost fully cooked, add the pureed tomatoes and 1/2 cup of water. Bring to a simmer and cook for 10 minutes. 
Add the sliced olives and adjust for salt. 
Serve with rice; garnish with cilantro. Enjoy! 
Leave a comment
Comments will be approved before showing up.
---
Also in Recipes
Pumpkin spice and everything nice! 
Nothing better to entertain your fall cravings than a perfectly moist and spiced pumpkin bread. 
Banana bread is great, but this zucchini bread is even better! This low sugar, low fat recipe is perfectly moistened with applesauce, combined with whole wheat flour, and spiced up with a healthy dose of cinnamon. 
Let's talk about turmeric. The spice's main active ingredient is curcumin, which has powerful anti-inflammatory effects, is a very strong antioxidant, and has shown to increase brain health and function. Start your day right with this pineapple turmeric smoothie.