Pumpkin Mousse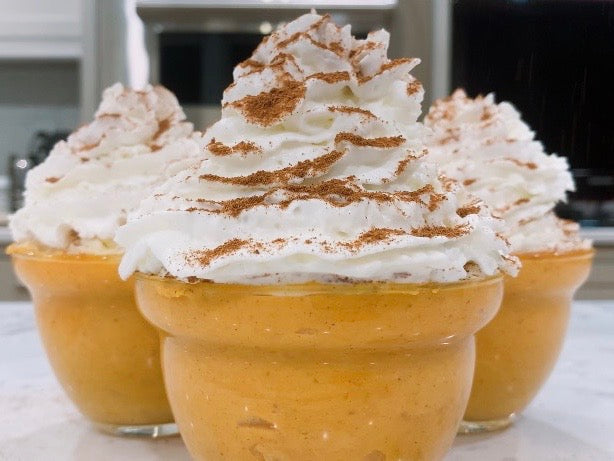 You don't need to wait until the fall to enjoy savory pumpkin desserts. This light pumpkin mousse will satisfy your sweet tooth while offering a taste of fall. 
INGREDIENTS: 
1 teaspoon pumpkin spice 
1/2 teaspoon cinnamon 
1/4 teaspoon ground ginger 
1/2 teaspoon salt
1/2 teaspoon vanilla extract 
15 oz can of pumpkin purée
3 ounces of sugar free vanilla instant pudding 
2 tablespoon maple syrup 
1 cup of almond milk 
1 cup of heavy cream
INSTRUCTIONS: 
In a medium bowl, combine the sugar free vanilla instant pudding, pumpkin spice, cinnamon, ground ginger, and salt.
Thoroughly mix in the pumpkin purée, maple syrup, vanilla extract, and almond milk. Whisk for 2 minutes or until creamy and smooth. 
With an electric beater, whisk the heavy cream until it reaches a whipped cream consistency. 
Fold 3/4 of the whipped cream into the pumpkin mixture. 
Plate the mousse as desired and refrigerate for at least 30 minutes. 
Use the remaining whipped cream to decorate and top off the mousse. Sprinkle additional pumpkin spice as desired. 
* Recipe inspired by Lena Abraham's Pumpkin Mousse.   
Leave a comment
Comments will be approved before showing up.
---
Also in Recipes
Pumpkin spice and everything nice! 
Nothing better to entertain your fall cravings than a perfectly moist and spiced pumpkin bread. 
Banana bread is great, but this zucchini bread is even better! This low sugar, low fat recipe is perfectly moistened with applesauce, combined with whole wheat flour, and spiced up with a healthy dose of cinnamon. 
Let's talk about turmeric. The spice's main active ingredient is curcumin, which has powerful anti-inflammatory effects, is a very strong antioxidant, and has shown to increase brain health and function. Start your day right with this pineapple turmeric smoothie.