Gingersnap Cookies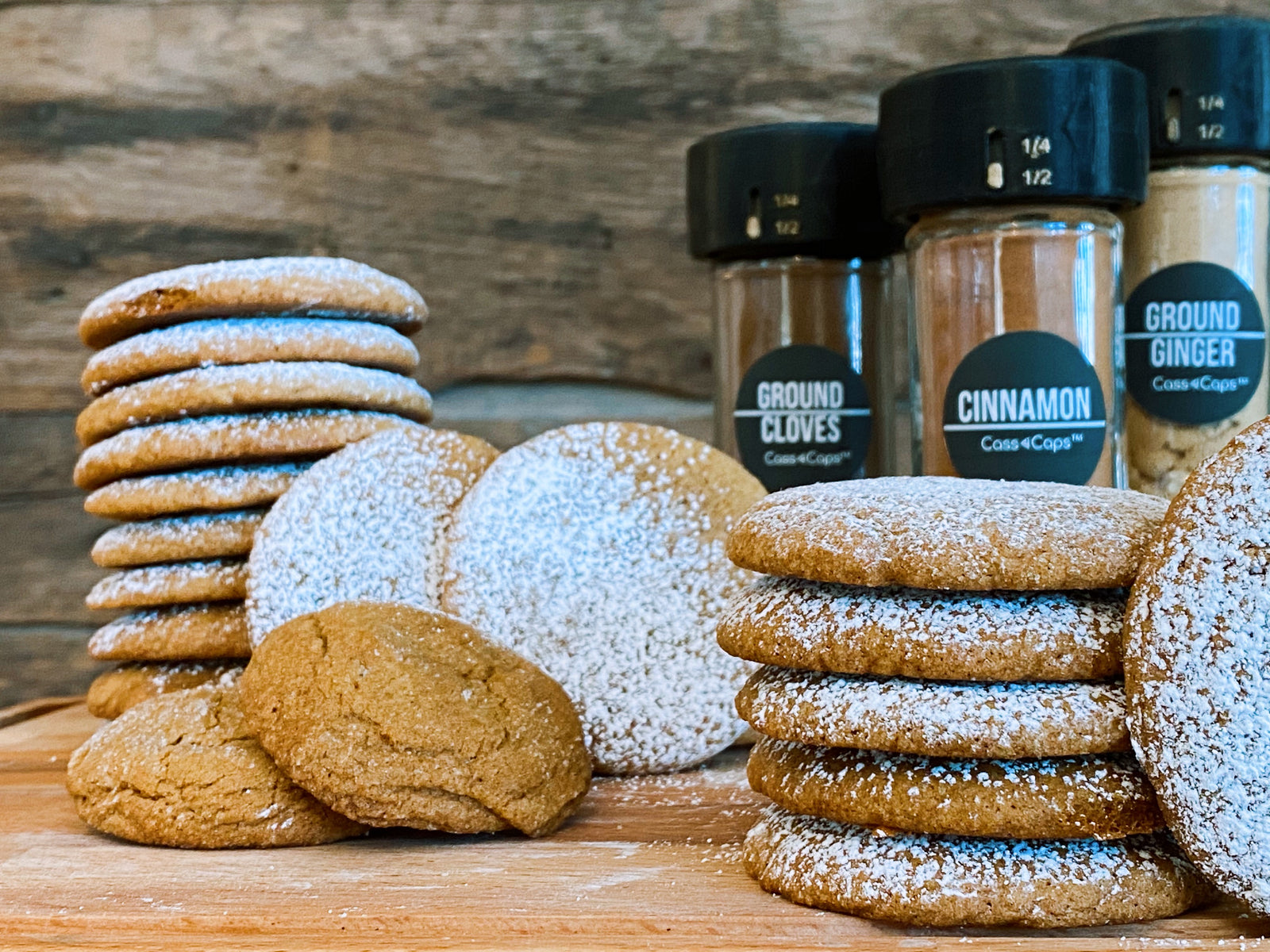 Our soft gingersnap cookies will spice up your cookie rotation. Dip in chocolate or sprinkle powdered sugar - get creative with your additions. 
SPICES: cinnamon, ground cloves, ground ginger, salt
INGREDIENTS:
2 cups flour
¾ cup margarine
1 cup brown sugar
1 egg
¼ cup molasses
2 tsps ground ginger
¾ tsp cinnamon
¼ tsp ground cloves
¼ tsp salt
5 tsps baking soda 
INSTRUCTIONS:
Preheat oven to 350 degrees.
In a large bowl, sift the flour. Add the ginger, cinnamon, ground cloves, salt, and baking soda. Mix well.
In a mixing bowl, soften the margarine. Incorporate the brown sugar, egg, and molasses. Beat well.
Add the flour in batches, mixing in between.
Cover a baking sheet in parchment paper. Scoop dough into balls (around 1 inch in diameter). Roll in sugar and place on baking sheet.
Lightly pat down the dough to flatten. If you want the cookies to have a cracked appearance after baking, sprinkle with water.
Bake 10 minutes at 350 degrees. Allow to stand for 10 minutes before transferring onto a cooling rack.
Garnish with powdered sugar.
Leave a comment
Comments will be approved before showing up.
---
Also in Recipes
Pumpkin spice and everything nice! 
Nothing better to entertain your fall cravings than a perfectly moist and spiced pumpkin bread. 
Banana bread is great, but this zucchini bread is even better! This low sugar, low fat recipe is perfectly moistened with applesauce, combined with whole wheat flour, and spiced up with a healthy dose of cinnamon. 
Let's talk about turmeric. The spice's main active ingredient is curcumin, which has powerful anti-inflammatory effects, is a very strong antioxidant, and has shown to increase brain health and function. Start your day right with this pineapple turmeric smoothie.