Spicy Shrimp & Pasta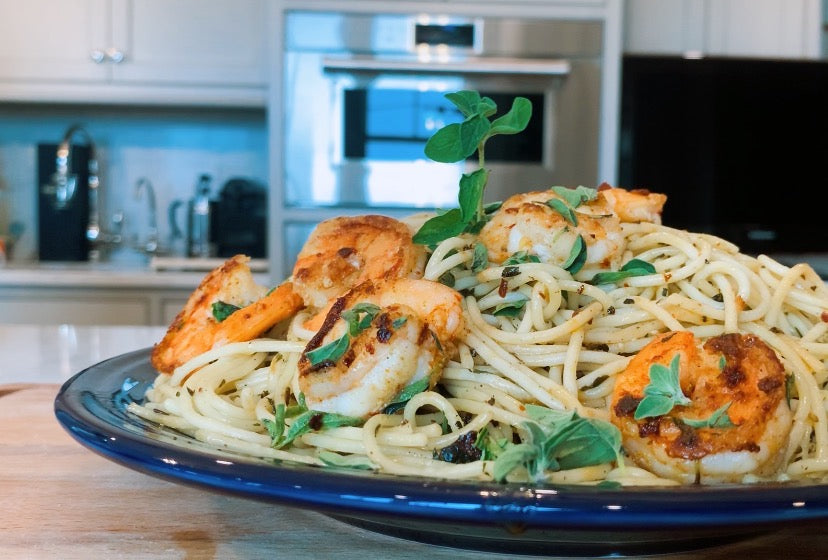 Shrimp. Pasta. What else could you need? This savory recipe brings an elegant combination of spices between the shrimp and pasta. 
INGREDIENTS: 
Pasta: 
1 lb pasta 
1/3 cup olive oil 
3 cloves of garlic 
2 tablespoons parsley 
2 teaspoons oregano 
1 teaspoon dried basil 
1 teaspoon black pepper 
1 teaspoon crushed red pepper 
Shrimp: 
1.5 tablespoons olive oil 
1 clove of garlic
1/2 teaspoon ground cumin 
1/2 teaspoon chili powder 
1/2 teaspoon onion powder
1/4 teaspoon salt
1/4 teaspoon crushed red pepper 
20 medium shrimp, peeled and deveined 
INSTRUCTIONS: 
Cook pasta as directed. 
In a large saucepan on medium heat, pour 1/2 cup of olive oil. Quickly stir in the garlic, parsley, oregano, dried basil and black pepper. 
Mix in drained and cooked pasta. Turn off heat. 
In a medium bowl, whisk 1.5 tablespoons of olive oil, garlic, cumin, chili powder, onion powder, salt, and crushed red pepper. Fold in the shrimp.
Gently place the shrimp on a medium saucepan at high heat. Make sure the shrimp are evenly spread out for consistent cooking. 
Cook on high heat for 2 minutes or until the bottom of the shrimp start to pink up. Flip the shrimp and and continue to cook for another 2 minutes. 
Plate the pasta and place the shrimp on top. 
Leave a comment
Comments will be approved before showing up.
---
Also in Recipes
Pumpkin spice and everything nice! 
Nothing better to entertain your fall cravings than a perfectly moist and spiced pumpkin bread. 
Banana bread is great, but this zucchini bread is even better! This low sugar, low fat recipe is perfectly moistened with applesauce, combined with whole wheat flour, and spiced up with a healthy dose of cinnamon. 
Let's talk about turmeric. The spice's main active ingredient is curcumin, which has powerful anti-inflammatory effects, is a very strong antioxidant, and has shown to increase brain health and function. Start your day right with this pineapple turmeric smoothie.