Vegan Cauliflower Steak Side Dish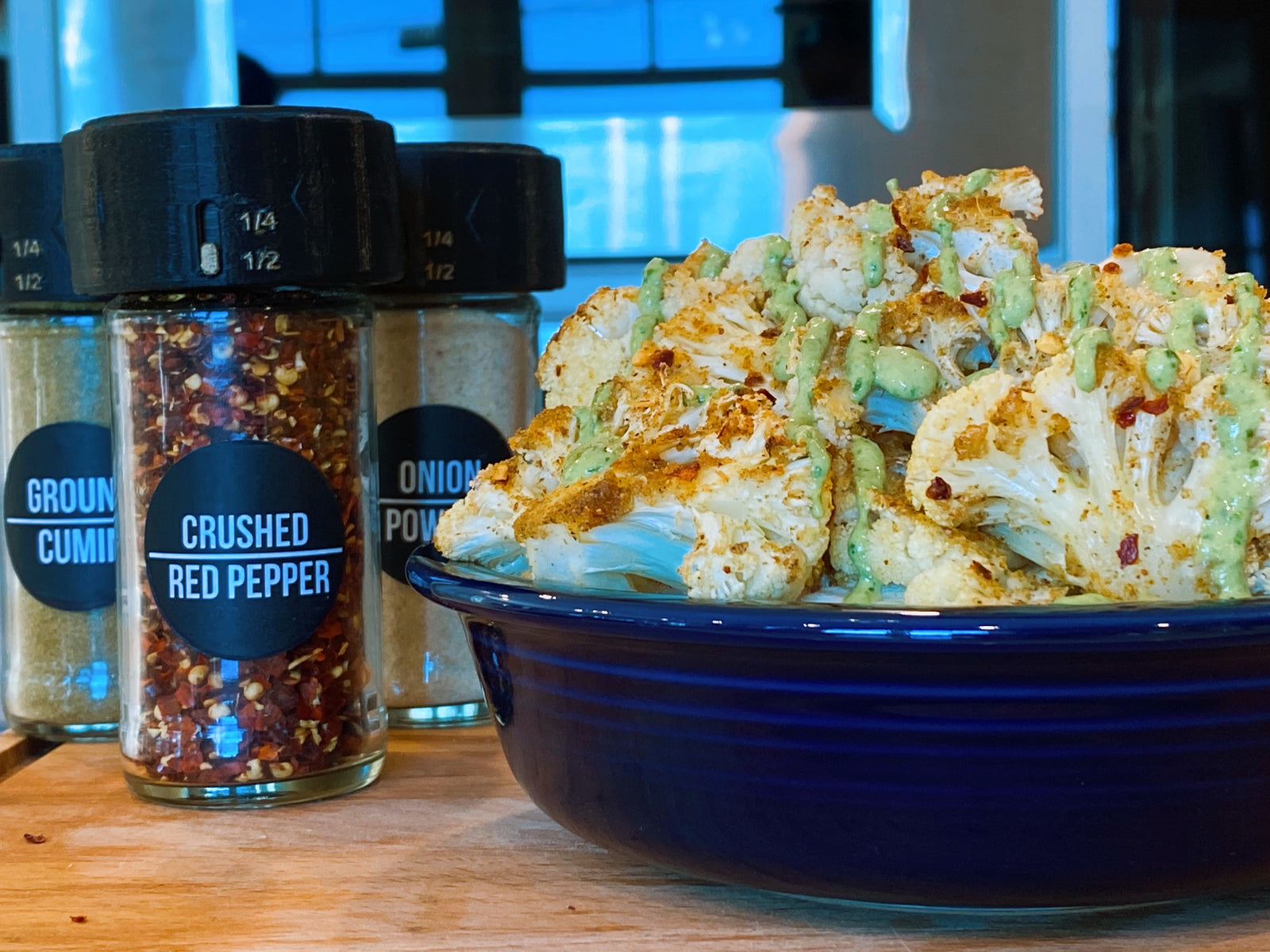 Looking for a healthy yet flavorful side dish? This vegan cauliflower steak recipe will satisfy your cravings. With a deep tahini sauce sprinkled over, pair this side dish with steak, fish or chicken for a burst of flavors. 
INGREDIENTS: 
Cauliflower: 
1 cauliflower head 
1 teaspoon ground cumin
1 teaspoon garlic powder
1 teaspoon onion powder
1/2 teaspoon ground fennel 
1 teaspoon crushed red pepper 
1 teaspoon salt 
1/2 teaspoon black pepper 
1/2 teaspoon chili powder
1 teaspoon cornstarch 
1 tablespoon olive oil 
Spinach Tahini Sauce: 
1/2 cup spinach 
1/4 cup water
1/4 cup tahini
1 tablespoon lemon juice 
1 garlic clove
INSTRUCTIONS: 
Preheat oven to 350 degrees Fahrenheit. 
In a small bowl, combine cumin, garlic powder, onion powder, ground fennel, crushed red pepper, salt, black pepper, chili powder, and cornstarch. 
Cut cauliflower head into steak pieces. For best results, slice from the top of the cauliflower to the stems, leaving half an inch between slices. Trim the stems as needed. 
Place cauliflower steaks flat on a baking sheet. Sprinkle a tablespoon of olive oil and the spices mixture. With your hands, gently mix the cauliflower around to ensure even coverage. 
Bake for 20 minutes. Flip the cauliflower. Bake for another 20 minutes. 
In a food processor, mix in the spinach, water, tahini, lemon juice and chopped garlic clove. Pulse until contents reach a creamy and smooth consistency. 
Plate the cauliflower. Pour the tahini sauce in a small ziploc bag and cut off a small piece of one of the corners of the bag. Gently drizzle sauce on the cauliflower. 
* Recipe inspired by Charanya Ramakrishnan - OneGreenPlanet.org. 
Leave a comment
Comments will be approved before showing up.
---
Also in Recipes
Pumpkin spice and everything nice! 
Nothing better to entertain your fall cravings than a perfectly moist and spiced pumpkin bread. 
Banana bread is great, but this zucchini bread is even better! This low sugar, low fat recipe is perfectly moistened with applesauce, combined with whole wheat flour, and spiced up with a healthy dose of cinnamon. 
Let's talk about turmeric. The spice's main active ingredient is curcumin, which has powerful anti-inflammatory effects, is a very strong antioxidant, and has shown to increase brain health and function. Start your day right with this pineapple turmeric smoothie.